Omooma is the Arabic word for Motherhood, a journey so beautiful and so complex at the same time. If you are about to embark on this journey or you are already finding your way in it, we are here to hold your hand and guide you through it.
Online courses for mothers and mothers to be
Studies have shown that the online learning market is one of the fastest and largest growing sectors, in the post-Covid pandemic era.
Despite this development and growth in the field of online learning, the needs of Arab women for interactive and e-learning have not been met.
Why do you need Omooma?
If you are trying to conceive, are pregnant, or just had your first baby, then you are navigating uncharted territory and must have one million questions and one million concerns. Like any other woman, your go-to source of information is usually other women. Either your mother or mother-in-law (who will often offer contradictory advice!) friends, or sisters.
The truth is these sources have as much love and care as they have for you; you will not always feel comfortable talking to them about these issues. Besides, their information is not always the most accurate or updated. Medical guidelines regarding prenatal and postnatal care are updated constantly especially in a world with a pandemic. Recommendations regarding newborn care, baby feeding, sleep, and development change as fast as scientific research advances. So as a modern woman who wants to be informed through all the stages of motherhood you need solid trustworthy information.
There must be a myriad of topics you want to learn about such as Infertility and conception, irregular periods, hormones, signs of pregnancy, and signs of labor. You might be anxious about natural delivery; you must worry about being able to care for your newborn properly. You will have questions like: What is the difference between natural and cesarean birth? Does the epidural make labor longer? Is it normal for breastfeeding to hurt? How to know if the baby is getting enough milk through breastfeeding? How does sleep train a baby? Are pacifiers safe…and many more about this beautiful journey.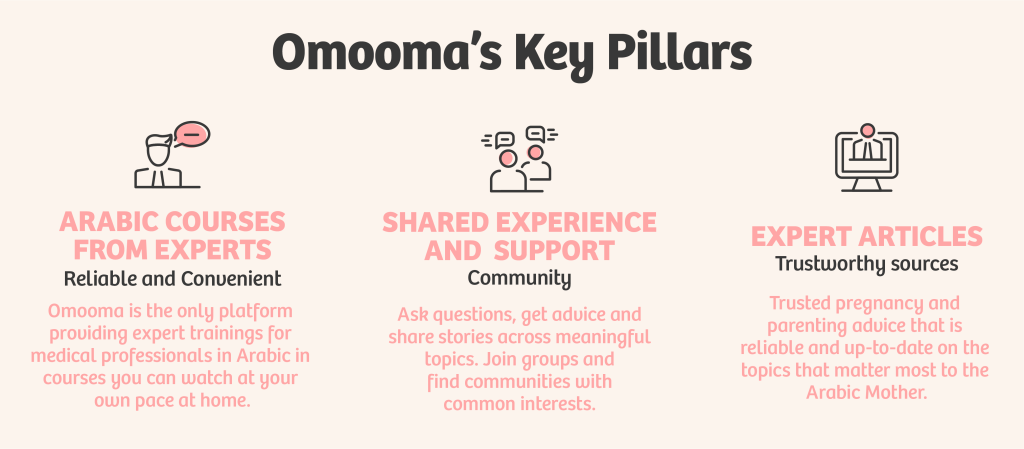 What is the Omooma Platform?
Omooma is the first Online platform offering classes in Arabic dedicated to mothers and mothers-to-be, they cover a great array of topics relevant to parenting. We have gathered the largest team of experts available in the region to offer you all the information you need and bring you all the support you require. Our experts consist of Fertility specialists, OBGYNs, Midwives, Doulas, breastfeeding consultants, Sleep consultant, a pediatrician, a genetic counselor, a beautician, and Parenting, nutrition, fitness, and health coaches. In addition to financial advisors, Psychologists, and many other specialists in all fields related to motherhood. From the early stages of planning to conceive to the precious moment when your little one takes the first steps, those professionals will have answers to your every question and will ease all your anxieties that come with the territory of being a mother.
Why is Omooma different?
We are not only the first in the field of online learning dedicated entirely to mothers, and mothers-to-be. We like to think that we are also the best! We are providing a comprehensive support system for women throughout their motherhood journey.
Our Experts
We have under the Omooma umbrella more than 25 experts who are not only the best in their fields but are also passionate about helping women and are all strong believers in Omooma's mission.
Our courses
The first batch of courses includes over 15 hours of high-quality video content. We are offering our subscribers different options. They can either sign up for individual courses, or the whole bundle that includes several courses at a more competitive price. And all are available immediately for viewing at any time and from anywhere.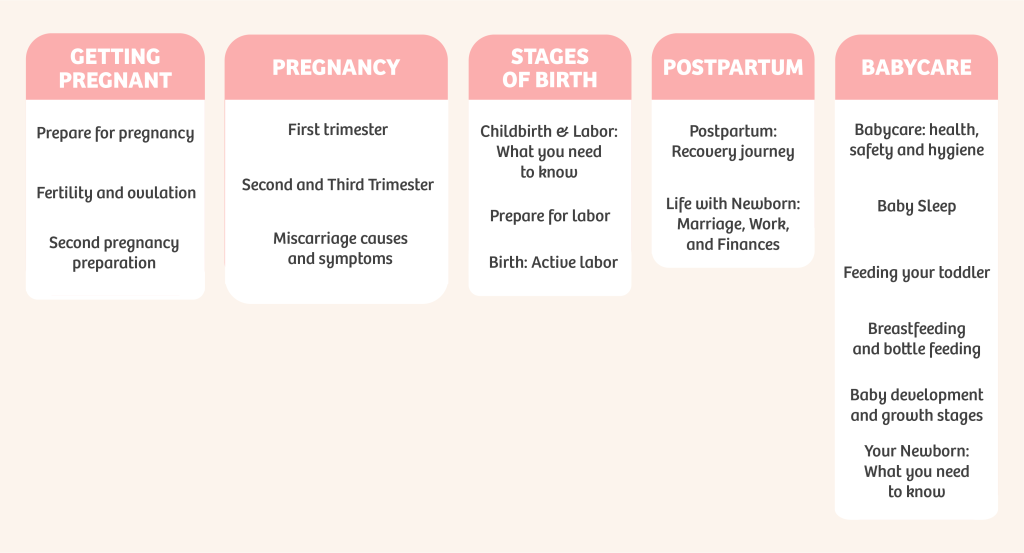 Our blog
Our experts are also sharing their knowledge and expertise through articles, available in Arabic and English. The Omooma blog has more than 200 articles, offering information about topics ranging from ectopic pregnancy, to how Yoga can ease your delivery, how to look elegant in maternity clothes, and how to plan the best gender reveal party.
Our online community
Not only you will have the support of first-class experts, but you will also have access to the largest online community for Arab women. This community is your haven where you can share and learn from other women who are going through similar experiences.

Welcome to the Omooma experience
Women don't usually have it easy in life no matter where they are and no matter what they do. Women about to embark on the parenthood journey are no exception. You, however, can cruise easily through this road with the professional help and guidance offered in our online courses. Let us accompany you on this adventure and help you all along.