You are a busy mom, whether you are working or not, living in Dubai, and need some extra help caring for your little one. You have opted for a nursery for the myriad of benefits this option has. But you are a little lost and don't know how to choose the best nursery in Dubai for your child. In this guide, we will share with you the main things to look for when choosing a nursery in Dubai.
Qualified staff
The staff is the main pillar in all educational and caregiving facilities. A good nursery employs staff who are qualified in early years education and experienced in caring for, and teaching, children of different ages. At Blossom Nurseries all our staff meets the KHDA requirements concerning the educational qualifications of nursery staff. We also go the extra mile and hire teachers who have degrees in early childhood education, or another childcare-related field. Some of our teachers hold additional qualifications such as CACHE 3. The CACHE qualifications are internationally recognized, UK-based qualifications for teachers and staff in the early childhood education field. Our teacher assistants also have degrees and/or the CACHE2 qualification, and we don't employ unqualified nannies or babysitters. When looking for a nursery make sure that they employ only qualified staff so that your children will not only be looked after but are getting the best possible early years' education.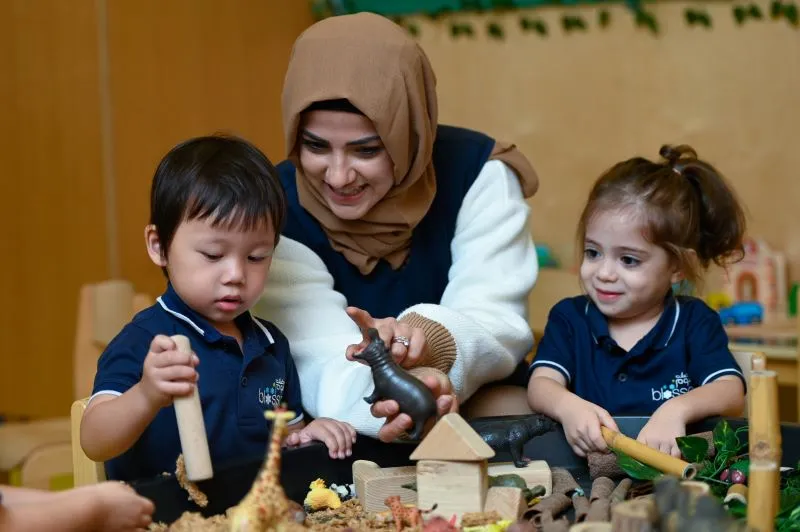 Child acceptance age
Some nurseries only accept children at three or six months of age, or even older, which can be a challenge for a working mom who needs to go back to work sooner. Blossom nurseries welcome your baby from the fragile age of 8 weeks and our well-qualified and trained staff, which for infants includes qualified nurses, can care for your little one perfectly. You are more than welcome to come to feed your baby at the breastfeeding lounge in the nursery during your breaks from work. We have designated sleeping pods to guarantee a safe and comfortable nap time for your baby. We also stimulate your child's development and help him or her gain cognitive and emotional skills during these important few months.
Safety
We know that we live in one of the safest cities on the planet, but when it comes to the safety of our children, we can't compromise. Check the nursery's security policy before deciding on where to send your child. At Blossom, we take security very seriously and have electronically locked external doors to both the nursery grounds and building plus CCTV coverage in all our centers. We also have security personnel in some of our locations. All visitors are checked before being allowed onto the nursery grounds and anyone who is not a parent is met and questioned before being allowed into the nursery reception area.
Healthy nutrition
You don't give your child unhealthy food at home, and we certainly don't want such food offered at the nursery. Blossom's partner company, Inspire Me Cuisine, offers catering for all children in our nurseries from weaning age, with freshly cooked meals available every day. These are prepared using fresh ingredients only, and our menus are created by qualified chefs and a Naturopath based on the latest child nutrition guidelines. We also offer vegan, vegetarian, gluten-free, and specific allergen-free meals. So, preparing a lunch box is another thing you don't need to worry about when choosing Blossom Nurseries.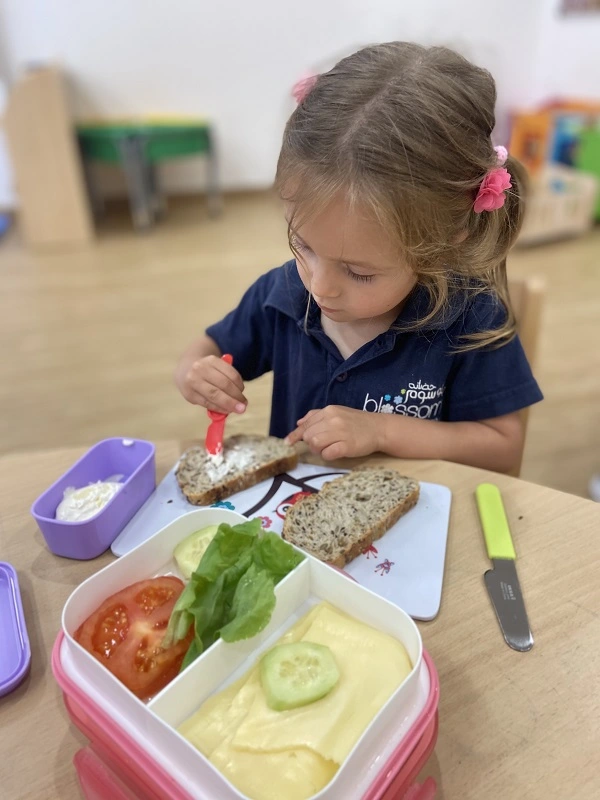 Locations
You are a busy mama, and your time is precious, so you don't want to be driving for an hour in the morning traffic to drop off your child at nursery. At Blossom, our locations are strategically located close to main housing communities and work areas, and with 16 locations across Dubai, you will always find a Blossom nursery that is convenient for you.
Flexible timings
Some nurseries have strict timings and may close before your workday ends, leaving you scrambling for extra help in the afternoon. At Blossom Nurseries, our daily schedule is from 8 AM to 6 PM, with different pick-up timing options to accommodate your schedule. We also offer early drop-off options starting at 7 or 7:30 am depending on location.
Monitoring
Parents are concerned about their children when they are out of their sight, which makes child monitoring an important aspect of childcare. All Blossom nurseries are equipped with CCTV in all areas except the ones where laws prohibit it, such as bathrooms and changing areas. Whilst we don't stream the footage online, for child protection and security reasons, recordings are stored and are available to parents on request. Parents can also view live CCTV footage of their child's classroom from the nursery office, which is a reassurance for parents in the first few days of their child's attendance.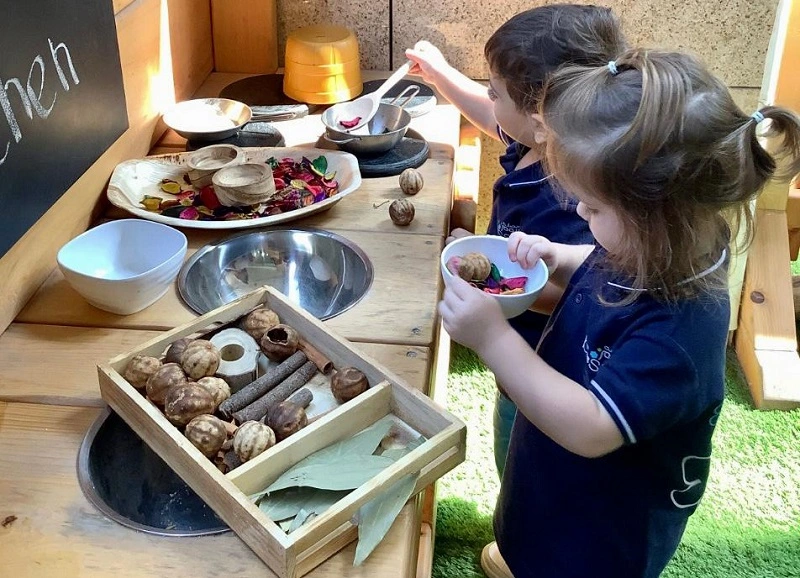 Communication
A nursery is a place where your child spends most of the day and a good nursery is a continuum of your home, in fact, at Blossom, we aim to be your child's second home. We understand that parents need to know what is happening with their children during their nursery day so communication with them is very important to us. At Blossom, we have an app for parents' smartphones where we share daily pictures, videos, and updates about each child's day. This way parents don't miss any of their child's special moments or milestones. The app also has a message function so parents can be in contact with the nursery throughout the day.
Potty training support
The time has come, and you are about to embark on one of the biggest motherhood challenges, potty training! New moms can be anxious about this milestone but, at Blossom, we will not only assist you with this process but will also let you know if we notice that your little one is ready. Our experienced staff will discuss routines with you, guide and support you if needed, and help both you and your child in achieving success with this important milestone.
Contagious disease policy
Although Covid-19 is now behind us this doesn't mean we aren't constantly considering the health and safety of our little ones. When you are looking for a nursery in Dubai make sure they abide by the health and safety regulations of both the KHDA and DHA and are happy to share the information with you. At Blossom, we have strict policies that follow all the recommended guidelines for nursery-age children, which include the requirement for a child to be symptom-free for 24 hours before returning to the nursery. We have a full-time, DHA-accredited nurse on staff in all our branches, and we have regular visits from a pediatrician to check on our little ones.